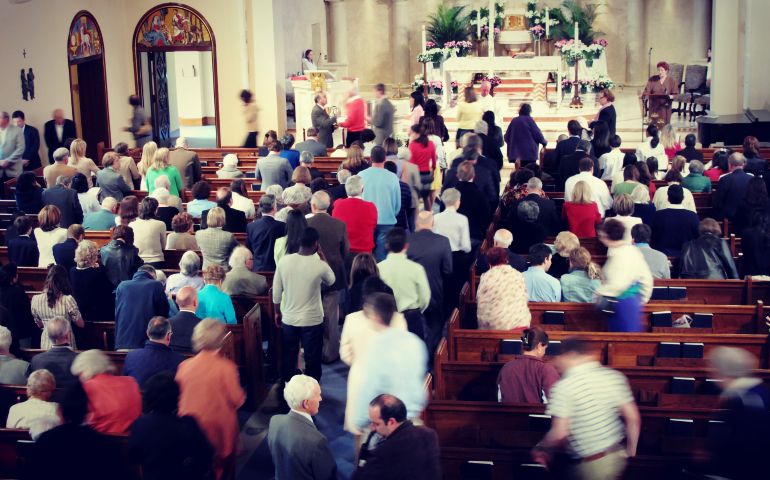 No doubt we will be hearing a great deal more about the incredible importance of EVANGELIZATION at Our Lady of the Lake Catholic Church as we continue to navigate the white waters of the pandemic etc. As we courageously continue to find meaning and purpose to our lives regardless of the unusual challenges that we face to be safe and yet productive in the disarray that we encounter in our daily lives. Do we not often wish for the "good old days" even in our church life? You know there is an irony for most of us as we think about EVANGELIZATION from a historical perspective, in that most of us would be described as "cradle Catholics", and generally understand the process of EVANGELIZATION as something that other Christian communities might utilize "to advertise" their church programs, their school or classes available to the community, or something else they provide of value to the community. Unfortunately many would describes such an event as a form of "marketing" which is often perceived as flawed and not very likely to produce a positive outcome.
If I may suggest, imagine just for a moment that you are standing outside our church at about 10:45 AM on a Sunday morning as individuals are hustling to get into church and find enough seats with proper social distancing for their family or they're standing looking at the outside church field trying to figure out the best place to sit for the 11 AM outside Mass liturgical Celebration. Let's imagine just a little deeper, in slow motion and you are intently focused on EACH person you see as they arrive at OLOL. You observe that some are young and carefree, others are old and sickly or weak, while many are vibrant and appear full of health. Some are apparently wealthy and others are burdened with financial challenges. Some are obviously eager to be refreshed in their spiritual life and others are coming because of obligation. Many are married, while others struggle desperately for a relationship. Many are happy being single and several struggle with the problems associated with divorce while feeling burdened as a single and responsible parent. All are coming for something….many are seeking a deeper relationship with their God while others are looking for someone to talk to, perhaps a friendship, or to be part of a community.
If we imagine even further that there is an incredible translucent thread that ties all of us and this event together. Our Pope Francis and his immediate predecessors strongly encouraged us to recapture the spirit of the early church with their zest for understanding their faith and their eagerness to spread their gift to others. It is well known that the early Christians had a common platform of personal enthusiasm (enthusiasm comes from a Greek word meaning "God within") which seem to be inseparable from their profound understanding of the true presence and their personal experience of the Risen Jesus Christ ever present in their daily lives. Our papal leaders truly believe that the new EVANGELIZATION is our "game changer" as we allow the power of EVANGELIZATION to enter into and permeate into our personal lives with the true presence of the Risen Christ which now fills to the very depths of our lives thus allowing us to genuinely welcome our "brothers and sisters" whether they come to us in the person of those who feel isolated, rejected, estranged or even hostile. Regardless, we accept them as they often come with feelings of indifference or burdened with overwhelming needs due to the empty and lonely feelings from within. We now arrive at a different understanding that EVANGELIZATION is not only intended for ordain ministers and women who concentrate their lives to be in prayer for others or catechists who officially carry the "Good News" to so many needy individuals throughout the world. We now much more fully understand, as we listen to the late Pope John Paul VI as he eloquently stated that "every Christian is just as much of a missionary to their fellow man because they have truly no arrived at such an in-depth understanding of the love of God for each of us in Jesus Christ". It becomes imperative for all of us "to spread the Good News throughout the world (your personal world)" so that everyone you encounter truly feel the presence of the resurrected Jesus Christ in all that you do and everyone you encounter.
As we allow this metamorphosis to truly transform us into disciples of the Risen Jesus Christ, we participate in this incredible Mission of Love: SERVICE TO ALL OTHERS, SERVICE ABOVE SELF as each of us concur with our papal leaders: EVANGELIZATION is the most important service we can offer to others. The renowned Catholic theologian and scientist Dr. Teilhard de Chardin quite eloquently describes love as we understand it's power in EVANGELIZATION as he states, "Someday, after we have mastered the winds, the waves, the tides and gravity, we shall harness for God the energies of love. Then for the second time in the history of the world, men will have discovered fire."