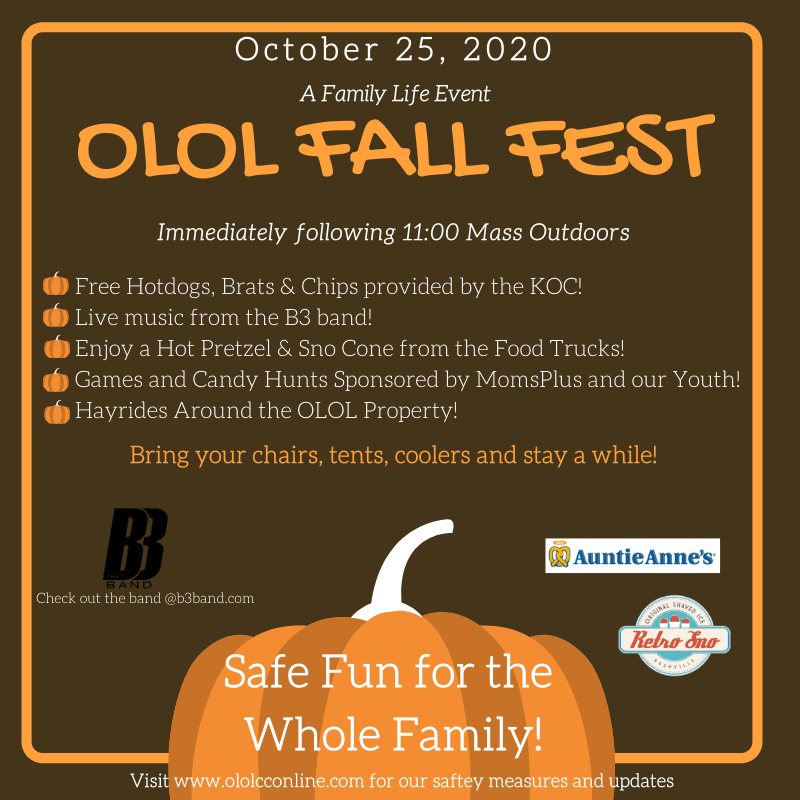 Join us for our 2020 Fall Fest, Sponsored by our Family Life Ministry!
Fall Fest will begin immediately following 11:00 AM Mass Outdoors in the field on October 25th.
The Knights of Columbus will be grilling hotdogs and brats. Individual bags of chips, individual condiments and bottles of water will also be provided. Those who are preparing the hotdogs and brats are being asked to wear masks while cooking. This is being provided for free!
Our live music will be provided by the B3 Band. They will start playing at 12:30 and the live music will go on for 2 hours. More information on the band can be found at www.b3band.com
Auntie Anne's Pretzels and Retro Sno trucks will be available for purchase from 12:30 until 2:30/3:00
MomsPlus along with our Youth will be providing a variety of games for the kids as well as candy hunts. We will divide the candy hunts into age groups and begin at 1:00pm. Bags will be provided for the kids to use to collect their candy.
Hayrides will be provided around the OLOL property. Riders on each ride will be limited and spaced out for social distancing.
For 11:00 Mass, as well as, Fall Fest you are welcome to bring your chairs, tents, blankets and coolers.  If you do not want the lunch provided feel free to bring your own.  
If you would like to donate a bag of individually wrapped candy, please drop off in the designated bin outside of the main office.
We want everyone to feel safe and have a great time! See you there!