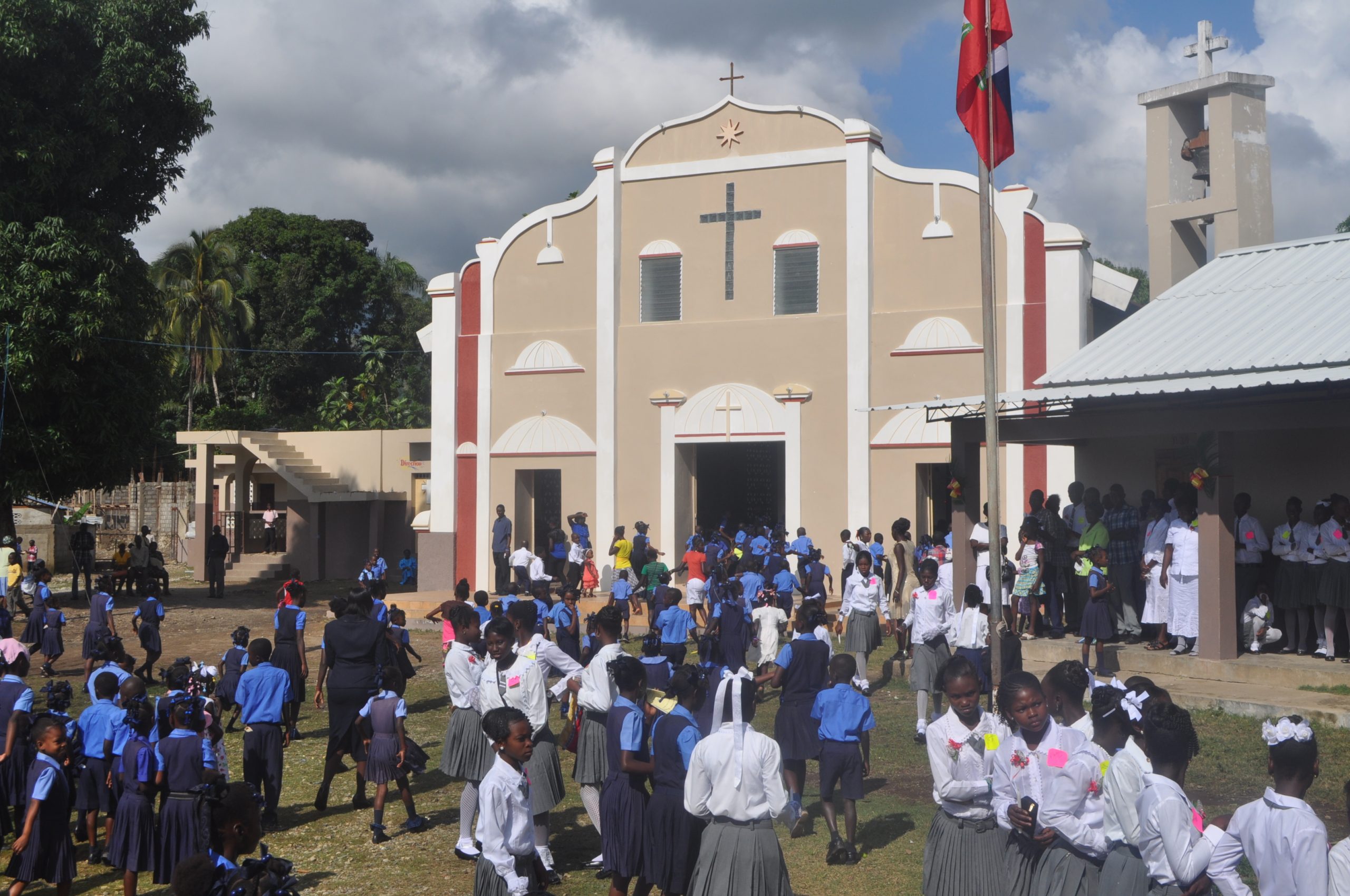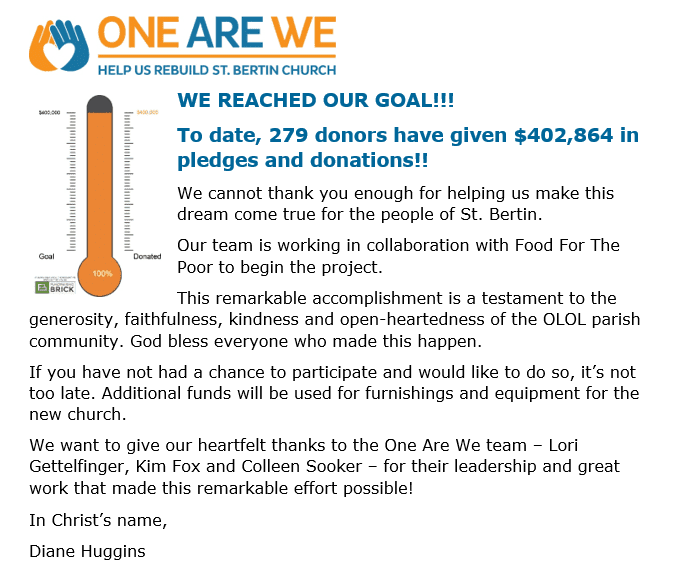 For nearly forty years, Our Lady of the Lake has been twinned with St. Bertin in Petit Bourg de Port Margot, Haiti. Thanks to the generosity of OLOL parishioners, we have provided faithful financial support and needed services for St. Bertin, including:
Support for St. Bertin School, making it possible for 750 students from preschool through high school to receive a quality education,
Medical and dental support and eyeglass clinics,
Sea Container shipments of needed supplies,
Help for the poorest of the poor through St. Vincent de Paul Society,
Other important projects, including solar panels and electricity, sanitary latrines, food distribution, etc.
Since 2001, more than 100 parishioners have traveled to St. Bertin to participate in 43 mission trips.
St. Bertin would struggle to exist without the faithful support of OLOL, and they are very grateful for all that we do. The people love their church. They are very spirit-filled and strong in their faith. Sadly, in October 2018, an earthquake severely damaged the church and rectory. Unfortunately, the damage is irreparable and both buildings must be demolished and rebuilt.
Meanwhile, St. Bertin parishioners attend Mass in a crowded make-shift sanctuary in the parish hall. They pray to God for a new church and give as much as they can.
God is calling us to help them. Our desire is to rebuild both buildings, but first we must start with the most important need – the church. The estimated cost to rebuild the church is approximately $400,000. Thanks to some generous donors, we are already on our way to meeting our goal to rebuild the new church. Once the church is built, we will explore the possibility of rebuilding the rectory.
Please prayerfully consider making a donation. Let us show the people of St. Bertin God's love for them.
To make a donation, you can:
Write a check to OLOL with St. Bertin Rebuilding Project on the memo line and mail it to OLOL Mission for St. Bertin at 1729 Stop Thirty Road, Hendersonville, TN 37075; or
Give online at ololcconline.com on the "donate" page (https://ololcconline.com/donate/). Scroll down to find the the St. Bertin Rebuilding Project donation link.
For more information, contact Lori Gettelfinger at gettella@gmail.com or 615-260-8372; Diane Huggins at dphuggins@comcast.net or 615-476-2667; or Therese Casler at theresecasler@gmail.com or 615-519-1863.